Play Canada Lotto 649 lotto online by filling out lottery tickets with six numbers between one and 49. Offering seven different ways to win a prize and Canada's biggest jackpots, players looking for huge, tax-free wins can enter the next Canada Lotto 649 draw!
| | |
| --- | --- |
| Guess Range | 6/49 |
| Hosted in | Canada, Canada |
| Schedule | Wed 22:30, Sat 22:30 |
| Jackpot Type | CASH |
| Tax Requirement | Lottery prizes are paid out tax-free. Check the tax laws in your country of residence for any further local taxation you may be subject to. |
Learn About Lotto 649 Draws
Lotto 649 Canada was the first real Canadian lottery, offering players the freedom to choose their own lottery numbers from the 49-number guess range instead of assigning each player a guess set in a raffle-style draw. Lotto 649 distributed Canada's largest jackpot, a CAD$ 64 million prize, to a single ticket which matched the winning numbers on 17 October 2015. Click here to see more Lotto 649 Canada results.
Chances to win Canada – Lotto 649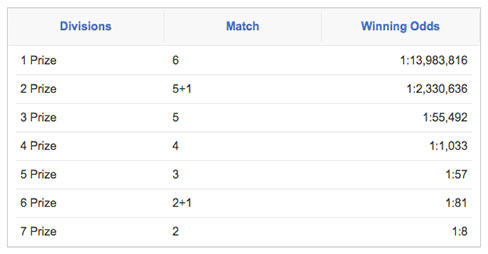 Canada – Lotto 649 Information
The Canada Lotto 649 is everyone's favourite national lottery, known for its record jackpots and easy-to-play format. The lotto reveals the rules of the game in its name: guess 6 out of 49 numbers to win the jackpot!
Canada Lotto 649 History
The Canada Lotto 649 was created in 1982 by the ILC (Interprovincial Lottery Corporation) that oversees all of Canada's nationwide lotteries. The lotto initially happened only on Saturdays, but in 1985 the ILC began to hold the lottery game to twice a week. In 2004, the price of the lottery tickets was increased together with the starting jackpot, raising the starting amount of the big first prize from CAD$ 2 million to CAD$ 3 million, which rose again to CAN$ 5 million in September 2013! Since the lotto's creation, there have been more than 300 winners of over CAD$ 1 million.
Canada Lotto 649 was the first Canadian lottery to offer players the option to select their own numbers instead of receiving pre-printed numbers or raffle tickets.
Canada Lotto 649 Rules
To play, select 6 numbers from a guess range of 1-49. At the time of the draw a bonus number is chosen from the same drum, and is counted towards secondary prizes only. The lotto guarantees to create a millionaire with every draw – meaning two millionaires a week! Players receive a unique 10-digit number for every line they buy exclusively for the CAD$ 1 million prize.
Click here if you want to learn more about lottery rules for 70+ world lotteries.
Winning the Canada Lotto 649
Thanks to the makeover changes Canada Lotto 649 underwent in September of 2013, winning odds start at 1:6.6 for any of the lottery's seven prize categories. Players must correctly guess the 6 numbers drawn from a range of 1-49 in order to win the jackpot. There is also a bonus ball which is counted towards secondary prizes only. The Canada Lotto 649 has a fixed starting jackpot of CAD$ 5 million and there are no taxes. The lottery holds the record for the largest Canadian jackpot ever — CAD$ 64 million — won by a single ticket on 17 October 2015.
Players who enjoy the Canada Lotto 649 might also want to try their hand at other North American lotteries with substantial jackpots such as USA Powerball or USA Mega Millions
Do you know ?
You can just stay at home and buy world top lottery tickets (like PowerBall, MegaMillion, EuroMillions, Australia Saturday lotto,..) online easily and quickly from top lotto messenger services. Go to
How to buy international lottery tickets
for more information.