With nine prize categories and Power Play option that doubles the $1 million secondary prize, lotto fans around the globe are crazy about Powerball! Though their enthusiasm may have something to do with the $1.58 BILLION world record jackpot set by Powerball on 13 January 2016!
Play the Powerball Lottery online, and get your hands on the largest jackpots that American lottos have to offer!
 Learn About US Powerball Lottery Draws
The US Powerball lottery produces some of the biggest jackpots offered at International Lottery. With a top prize that starts at $40 million, this American lotto is a global attraction! In fact, the US Powerball's popularity has resulted in the UK, New Zealand, Australia and South Africa all setting up their own versions of the famous lottery format. The US Powerball's 8-figure starting jackpot is one that few world lotteries even come close to matching. Check the US Powerball Lottery results page to see if you're a winner!
| | |
| --- | --- |
| Guess Range | 5/69 + PB 1/26 |
| Hosted in | Arizona, Arkansas, Colorado, Connecticut, Delaware, Florida, Georgia, Idaho, Illinois, Indiana, Iowa, Kansas, Kentucky, Louisiana, Maine, Maryland, Massachusetts, Michigan, Minnesota, Missouri, Montana, Nebraska, New Hampshire, New Jersey, New Mexico, New York, North Carolina, North Dakota, Oklahoma, Oregon, Pennsylvania, Rhode Island, South Carolina, South Dakota, Tennessee, Texas, Vermont, Virginia, Virgin Islands, Washington, Washington, D.C., West Virginia, Wisconsin, U.S., USA |
| Schedule | Wed 23:00, Sat 23:00 |
| Jackpot Type | CASH |
| Tax Requirement | Tickets for this lottery are purchased in Florida. Lottery prizes are subject to taxation at source. There are three tax bands. Tax Band 1: Tax-free up to $600. Tax Band 2: Any portion of the prize between $600.01-$5,000 is subject to a tax rate of 28% (30% for non-residents). Tax Band 3: Any portion of the prize exceeding $5,000 is subject to a tax rate of 25% (30% for non-residents). Check the tax laws in your country of residence for any further local taxation you may be subject to. |
| Multiplier Prizes | Add Power Play, double the 2nd place prize to $2,000,000, and multiply other prize categories by up to 10 times, depending on draw and jackpot size. |
Chances to win U.S. – Powerball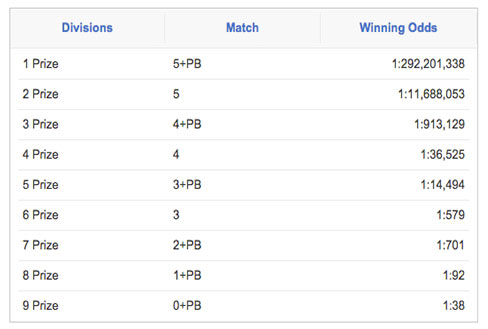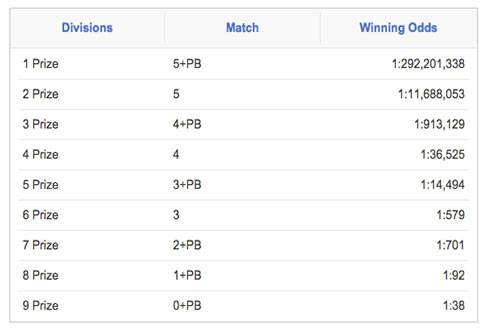 U.S. – Powerball Information
The US Powerball lottery has proudly offered some of the largest jackpots in lottery history. The lotto has become a household name and a source of inspiration for similar Powerball lottery games around the world, such as the New Zealand Powerball and the Australian Powerball.

USA Powerball History
The USA Powerball was originally known as the "Lotto America" when it was started in 1988 by the MUSL (Multi-State Lottery Association). It has since come to embody the ultimate American lottery experience. In April 1992, the name was changed to the U.S. Powerball and the game's first drawing officially took place three days later. The Power Play option (which currently allows players to increase secondary prizes by 2-10 times) was added on 7th March 2001.
Originally, the US Powerball could only be sold in US states where the Mega Millions lottery was not sold. As a result, until 2009, the USA Powerball was only sold in 23 states. A compromise was reached to allow states to sell both lotteries, and today the USA Powerball can be found in 47 states and territories. Proceeds from the USA Powerball are shared between the cooperating states, with each state then distributing its fund allocation as it sees fit. Most states use the lottery proceeds for government funded programs that further educational initiatives or community efforts.
In the US, Powerball tickets can be purchased in Arizona, Arkansas, California, Connecticut, Colorado, Delaware, Georgia, Idaho, Illinois, Indiana, Iowa, Kansas, Kentucky, Louisiana, Maine, Maryland, Massachusetts, Michigan, Missouri, Montana, Nebraska, New Hampshire, New Jersey, New York, North Dakota, Ohio, Oklahoma, Oregon, Pennsylvania, Puerto Rico, Rhode Island, South Carolina, South Dakota, Tennessee, Texas, US Virgin Islands, Vermont, Washington, West Virginia, Wisconsin, and Wyoming.
On 15th January 2012, the US Powerball updated its prizes and winning odds in honor of its 20th anniversary. One of the most important changes was the reduction of the Powerball guess range from 39 to 35 balls, allowing more players to win the jackpot and other prizes. Although Powerball officials doubled ticket prices, they also doubled the starting jackpot amount from $20 million to $40 million. The Power Play was changed to a fixed multiplier, doubling the second place prize to $2 million and multiplying all other secondary prizes by 2-4 times.
Starting from the 22nd January 2014 draw, Power Play is no longer a fixed multiplier. It continues to double the amount of the second prize to $2 million, but multiplies all the other secondary prizes by up to 10 times, depending on the Power Play number and jackpot total for the respective draw. The 10x Power Play is only available when the jackpot is below $150 million.
The California Lottery Commission unanimously approved the addition of Powerball to the state's lottery offerings on November 29th, 2012, following the lottery's record-breaking $587.5 million jackpot, which was broken once again just six months later! California joined the majority of US states that already participated in Powerball and became an official member on April 8, 2013. Californians should be aware that prizes are paid differently than other states; the California Powerball uses a parimutuel system to determine the size of each prize, such that prize values are not fixed, but depend on sales and the number of winning tickets. Another important difference is that California Powerball does not support the Power Play feature.
Wyoming was added as a Powerball state in August 2014 and Puerto Rico came aboard on 28 September 2014.
On 4 October 2015, Powerball updated its rules. The guess range for the main numbers were increased from 59 to 69 and the Powerball guess range was reduced from 35 to 26. The 10x Power Play option for the seven secondary prizes was also added at this time.
2015 came and went and the rollovers never ended. By January 2016, it was clear that we were witnessing something extraordinary. Powerball obliterated the previous world lottery jackpot record, reaching nearly $1.6 billion on 13 January 2016. The jackpot was split by three winners in California, Tennessee, and Florida.
USA Powerball Rules
To play the USA Powerball, players select five balls from a guess range of 1-69 and an additional number (Powerball) from a separate number matrix with a guess range of 1-26.Compare the U.S. Powerball lottery with Powerball lottos from around the world.
Winning the USA Powerball
A winning ticket is called when a ticket matches the five numbers of the regular guess set as well as the Powerball additional number. Wins are taxed at differing rates depending on residency and state laws.
The US Powerball historic jackpots include: $1.586 billion won in January 2016, $590.5 million won by a single winner in May 2013, $587.5 million won by two winning tickets in November 2012, a $564 million jackpot divided among three winners on February 11th, 2015, a $448.4 million prize in August 2013 divided among three winning tickets – one of them belonging to 16 New Jersey co-workers, $400 million won by a sole winner in September 2013, $365 million shared by eight coworkers in February 2006 and a prize of $340 million won in October 2005.
In May 2013, the US Powerball lottery marked another milestone with the $590.5 million jackpot claimed two weeks after the draw by a woman in Florida. On Wednesday, February 11th, 2015, the US Powerball was close to reaching another record high when it was scooped up by three winners. Together they amassed an astonishing fortune of $564 million. But the big blast came in January 2016 when a Powerball jackpot that amounted to $1.568 billion was won after weeks of complete Powerball fever all over the world.
USA Powerball Anecdotes
Con Agra Meatpacking – A syndicate of co-workers struck it big when they won a US Powerball lotto jackpot worth $365 million. The workers of Con Agra Meatpacking decided to receive their winnings as a lump sum in 2006.
Setting a New Record – When the US Powerball changed its rules in January 2012, to provide more excitement and bigger jackpots, they foretold that they would have a $500 million plus jackpot by the end of the year, and reach a $1 billion jackpot by 2022. Less than a year after releasing the updated version of the game, November 2012 saw the American lottery jackpot reach $588 million after 15 rollovers! This amazing prize was shared by two lucky lottery winners from Missouri and Arizona. Read more about the Powerball jackpot winners in our lottery blog.
Fortune Cookie Win – In 2005, 110 people won second place prizes in the USA Powerball. Some, who added the Power Play, received as much as $500,000 with the prize multiplier feature. Eventually, it became known that all 110 had used numbers suggested by their fortune cookies. The fortune cookie company, Wonton, Inc., had mass produced fortune cookies with the same recommended lucky number selection.
Players who enjoy the US Powerball might also enjoy the Mega Millions, or wish to play Europe's #1 lottery EuroMillions, which offers sensational tax-free jackpots.
Do you know ?
You can just stay at home and buy world top lottery tickets (like PowerBall, MegaMillion, EuroMillions, Australia Saturday lotto,..) online easily and quickly from top lotto messenger services. Go to
How to buy international lottery tickets
for more information.