The Daughter of a Vietnam Veteran Just Won $343.9 Million in the Powerball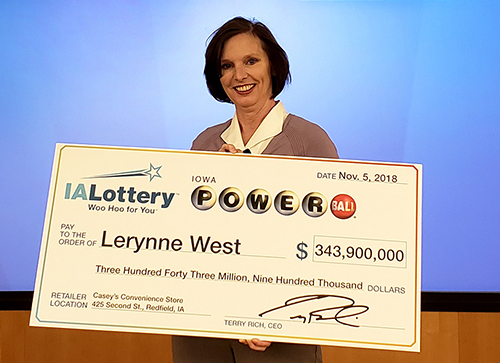 Lerynne West – The daughter of a Vietnam veteran and a stay-at-home mom stepped forward Monday to claim a $343.9 million Powerball jackpot, the largest lottery prize won to date in Iowa.
"I realize this is a life-changing moment," Lerynne West of Redfield said as she claimed her prize at lottery headquarters in Clive. "I'm excited to share my winnings with family and friends, plan to purchase a new car, and look forward to a long vacation – or several. I also plan to give to the causes and organizations important to my family through our newly established Callum Foundation."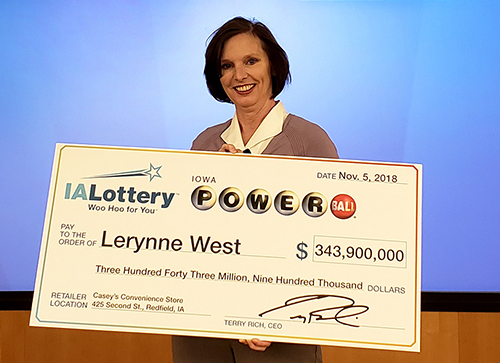 West's ticket split the Powerball jackpot in the Oct. 27 drawing with a ticket purchased in New York City. Her half of the jackpot – the third-largest prize in the 26-year history of the game – is $343.9 million annuity, or $198.1 million lump-sum option. The New York ticket has yet to be claimed.
West, 51, bought her jackpot-winning ticket at Casey's, 425 Second St. in Redfield, a Dallas County community of about 830, where she recently bought a house. She was moving into her new home in late October and she and her sister stopped at Casey's for pizza and coffee. While they were there, West bought an easy-pick Powerball ticket. She thought she put her ticket into her purse in her sister's truck, but the jackpot-winning ticket for a time was misplaced – it rode around on the floor of that pickup for a time.
The day after the drawing, West got a text from a friend, asking if she had won the jackpot. She replied that she likely hadn't, but she would check her ticket to see. When she couldn't find her ticket, she called her sister, who found it in her truck. Her sister sent her a picture of the ticket and when West checked her numbers on the lottery website, she realized she'd won the jackpot.
"I told my sister to get in her truck and get that ticket and get up here right now! And, drive slow," West said with a laugh as she recalled that day.
Later that day, West drove by the Casey's store in Redfield and saw television crews setting up to do interviews there about the jackpot-winning ticket.
"I watched them and smiled," she said.
Iowa Lottery CEO Terry Rich said it's exciting to be a part of West's story as Iowa's ninth Powerball jackpot winner.
"The fact that this jackpot was split by tickets in two very different settings – one in New York City and the other in a small rural town – goes to show what we've said so many times: You just never know where the next big winner will hit," he said. "It also shows that Powerball is working the way it was intended, by giving people all across the country the chance to win prizes of all sizes, including the jackpot."
West has three adult daughters and six grandchildren, many of whom were with her at the lottery. She also comes from a large family, with seven siblings, some of whom also attended Monday's event, along with their mom.
The jackpot-winning tickets in Iowa and New York both matched all six numbers selected in the Oct. 27 Powerball drawing to split that night's $687.8 million grand prize. The winning numbers were: 8-12-13-19-27 and Powerball 4. The Power Play number was 3.
Powerball jackpot winners can choose to receive their prizes in annuitized payments over time or as a one-time, lump-sum payment. The New York and Iowa winners did not have to choose the same option. West chose to receive her winnings in a lump-sum payment.
Prize Details
Annuity
Payments Totaling:                $343.9 million
The annuity total would be paid in 30 graduated payments over 29 years. Federal withholding of 24 percent and state withholding of 5 percent would be applied to each payment.
Chosen To Receive As Lump-Sum Option
Prize:                                        $198.1 million
Federal Withholding:             $47.5 million (24 percent)
State Withholding:                 $9.9 million (5 percent)
After-tax prize:                       $140.6 million
Comments
comments
Do you know ?
You can just stay at home and buy world top lottery tickets (like PowerBall, MegaMillion, EuroMillions, Australia Saturday lotto,..) online easily and quickly from top lotto messenger services. Go to
How to buy international lottery tickets
for more information.